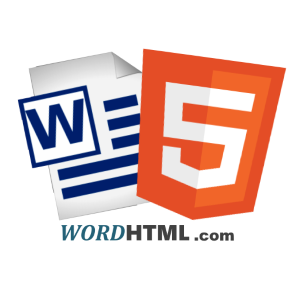 Terms and Privacy
By using the WordHTML.com web site you are agreeing to be bound by the following terms and conditions.
We reserve the right to update and change this agreement from time to time without notice. Any new features or changes to the current WordHTML.com, shall be subject to this agreement. Continued use of WordHTML.com after any such changes shall constitute your consent to such changes.
Prohibited Actions
- Edit documents containing illegal materials.
- Modify, adapt, translate, or reverse engineer any portion of WordHTML.com .
- Integration and automation of the Service into your own or 3rd party applications.
- Any illegal activity whatsoever.
- You may not use WordHTML.com for any illegal or unauthorized purpose. You must not, in the use of WordHTML.com , violate any laws in your jurisdiction (including but not limited to copyright or trademark laws).
Privacy
- The document editing is perfomed on client side and they are not sent to our server.
- We will not share submitted data with third parties.
- We use Google Analytics and Microsoft Clarity to collect anonymous visitor statistics.
- To keep this service free we might display ads and might add code snippets to the converted documents. By using this website you agree not to remove these codes and the links included. You have the possibility to use the ad-free, full featured HTML editor at htmlg.com
Cookie policy
- The website is using cookies to enhance the user experience by saving your settings.
- Third party cookies are used. See Google Analytics, Microsoft Clarity and Google AdSense privacy terms for more details.
Warranties
- WordHTML.com is provided as a free service, without any warrantee or guarantee, whatsoever.
- We are not responsible for the correctness of your documents, checking them before publishing is your responsability.
- We are not responsible for lost documents, keeping a back up is your responsability.
- You understand that WordHTML.com uses third party vendors and hosting partners to provide the necessary hardware, software, networking, storage, and related technology required to run the Service.
- We do not warrant that the service will meet your specific requirements.
- We do not warrant that the service will be uninterrupted, timely, secure, or error-free.
- We do not warrant that any errors in the service will be corrected.
Contact
- For any enquiry WordHTML can be contacted on the email address below:


Disclaimer
Use of WordHTML.com is at your own risk.
THE SERVICE IS PROVIDED "AS IS" AND ANY EXPRESS OR IMPLIED WARRANTIES, INCLUDING, BUT NOT LIMITED TO, THE IMPLIED WARRANTIES OF MERCHANTABILITY AND FITNESS FOR A PARTICULAR PURPOSE ARE DISCLAIMED. IN NO EVENT SHALL THE SERVICE BE LIABLE FOR ANY DIRECT, INDIRECT, INCIDENTAL, SPECIAL, EXEMPLARY, OR CONSEQUENTIAL DAMAGES (INCLUDING, BUT NOT LIMITED TO, PROCUREMENT OF SUBSTITUTE GOODS OR SERVICES; LOSS OF USE, DATA, OR PROFITS; OR BUSINESS INTERRUPTION) HOWEVER CAUSED AND ON ANY THEORY OF LIABILITY, WHETHER IN CONTRACT, STRICT LIABILITY, OR TORT (INCLUDING NEGLIGENCE OR OTHERWISE) ARISING IN ANY WAY OUT OF THE USE OF THIS SERVICE, EVEN IF ADVISED OF THE POSSIBILITY OF SUCH DAMAGE.